Ann Horton had a stroke five years ago and afterwards hired a full time nurse to help out around the house. She remembers very little about the day last year she almost died.
"Oh my word. We had just been to a wedding in Kingsland, TX and I was in good health. I thought I was just fine."
Her nurse, Elisabeth Bennett, knew something was wrong and called 911.
At some point Horton's heart stopped beating and she had to be shocked with a defibrillator. Months later, she and her husband wanted to stop by the fire station and say thank you to those who saved her life.
"You're real heroes to me and I can't tell you how much I want to thank you. And to repeat if you weren't there, I would not have known what to do."
First responder Brandon Robelia was one of those who worked on Horton and helped get her heart pumping again.
"Well, it feels good, just knowing that you helped."
Doctor David Persse over sees a lot of those first responders and says calls like are the ones that really get their own hearts beating fast.
"It gets you going. You get working and you get focused, put a lot of emotion, as well as blood and sweat into it, then we bring the folks to the hospital. And for the firefighters, it's sort of anti-climatic because you drop them off and you never know what happened."
He says although most people probably are thankful, its not often they actually make it back to the station to say it in person.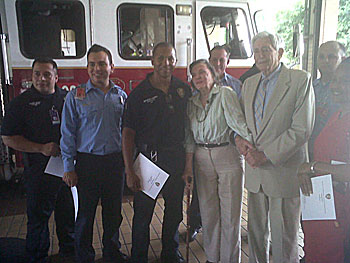 "A lot of folks are real happy to come back and say thanks and have events like today. And in other groups the patient is happy to come back but the family member is like 'no, that was the worst day ever. And you know what I just want to put it past let's move forward, you're home, you're healthy. I thank God for that, but it's just too much for me to go back and relive that day.'"
Horton suffered several broken ribs from the CPR, but says they've healed and she feels just fine.
"I want to get up and do things, but then I find I can't do it without some help. After being active all my life, I find it difficult to accept."
Getting around may not be easy, but she was determined to make it to the station and give all the paramedics and EMT's a big hug.