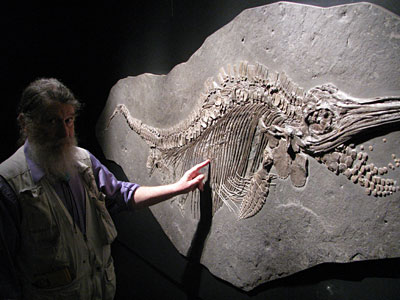 Chief paleontologist Robert Bakker strolls through the new exhibit, the culmination of seven years of planning and collecting.
He stops in front of a 10-foot fossil of an extinct marine reptile.
"We're looking at Jurassic mom. It's a female from a swimming reptile called an ichthyosaur, in life it'd be shaped like a shark, though it was an air-breather."
Other visitors creep closer, drawn by Bakker's enthusiasm as he begins to reveal the story hidden in plain sight:
"It's a beautiful skeleton of a female and looking out at us from the ribcage is the eye and snout – that's an unborn pup, right there! But wait here's another, another unborn pup, and here's another one, number three."
Bakker continues to point out the babies until he reaches the seventh, this one wedged lower, in the birth canal.
"She died giving birth to number seven, there. It's beautiful, but sad, but wonderful."
There are hundreds of specimens, ranging from ancient sea lilies to fossilized feces to a giant ground sloth.
Bakker says it's hard to choose, but the star of the show may be a complete triceratops with rare samples of mummified skin.
But Brielle Driggs, a four-year-old from Pearland, disagrees. She tells Bakker her favorite is the classic dinosaur, the carnivorous tyrant lizard, or …
"T. rex."
"And why do you like it?"
"'Cause, 'cause, 'cause it has two fingers, cause it's really big and it's my favorite too."
"Do you know what it did with its two fingers?"
"Eats meat!"
"Nope, the fingers are so short and they're so weak it can't reach its mouth...It would come up to its mate or its babies and it would stroke them. That's for making its babies feel better."
Bakker urges visitors not to speed past the early specimens, like the exquisite rococo fossils of trilobites.
Trilobites thrived for 200 million years, lasting longer than dinosaurs and surviving many extinctions.
"I call them the Faberge eggs of the fossil record because they're so intricately sculpted. Some of them have horns on their horns and frills on their butts and some of them probably floated in the water column and some certainly burrowed. Look at that, isn't that amazing? I mean you can really get hooked on trilobites."
The exhibit is now open to the public and included in the regular admission price.