I went to about half a dozen comic and science fiction conventions while growing up in the '80s. My interests leaned more toward Doctor Who and The X-Men than the NFL or MTV. To put it bluntly, I was a nerd.
But somewhere between my last visit to I-CON on the campus of SUNY Stonybrook and the moment I stepped into the George R. Brown for Comicpalooza, fandom went mainstream.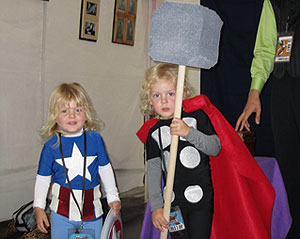 Convention-goers, and brothers, dressed as Captain America and Thor.
"When I was a kid, collecting comics, you know, it wasn't something you told anybody about."
That's Richard Evans, owner of Houston-based Bedrock City Comics. He says the business was still pretty marginal when he opened his first shop in 1990.
"But with the continuing success over success of the movies and things like The Big Bang Theory on TV, it's kind of a hip, cool thing, now, and its garnered us a ton of acceptance."
Having a presence at Comicpalooza is a good way to get the word out about your business if you sell comics. Or steampunk costume parts. Or run a start up wrestling league. Or …
"My name is Alan Presley, and I'm with MechCorps Entertainment. We have eight BattleTech cockpit simulator pods that we're at the convention here, where you can drive a three-story tall, 75-ton walking battlemech, connected together with seven of your friends, battling friends and foes, and having fun blowing stuff up."
And yes, they're available for corporate retreats.
Whatever else has changed about conventions, they're still events where you can drop some serious cash in a very short amount of time. That hasn't gone unnoticed in the corporate world. Jason Hainbach is representing this year's big new sponsor: Best Buy. He's also Comicpalooza's director of video gaming and technology.
"We came out here. We set up a booth with some TVs, some Connects. We also brought a lot of coupon stuff that we're just giving out. We sent an e-mail blast to all of the Best Buy employees too, offering discount codes."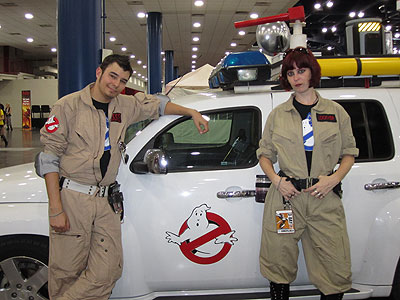 Members of the Houston Ghostbusters and the Ghostbusters Mobile
People don't just come to comic conventions to spend money. They also come to see their favorite artists, writers — and stars.
"I'm Christopher Judge and I played Teal'c on Stargate SG-1. I'm in The Dark Knight [Rises], which premieres in July, and I have no idea what I'm doing in it, so … [laughs]. I mean I was hired for one part, and then I ended up shooting two extra weeks, so I'm as curious as everyone to see how I fit into the movie."
Meeting the stars is free, once you've bought your ticket. Getting an autograph will run you $20 to $50, depending on who's signing. Photographs are extra.