Gang activity in Houston is a problem that keeps law enforcement agencies looking for ways to stay ahead and eradicate it.
Carlos Barron is with the FBI:
"The problem is here. Gangs are a problem, and they're here in Houston. As the chief said, we have over 150 identified gangs. We have over 15,000 identified gang members. This is a serious problem in Houston."
A new anti-gang tactical operations center has been created to bring the fight to another level.
The Harris County DA's office secured a $1.7 million grant from the state to fund, establish and equip the center located on the city's north side.
"What it is, it's strategic in nature, I think, as opposed to tactical. Strategic in the sense that we bring everybody together that's now in separate areas of the city. We focus on what we've identified, through an intelligence led policing to be our highest gangs, or most dangerous gangs, the gangs the pose the biggest threat, and we go after them deliberately. As opposed to reacting to different gangs or different events. We're being proactive."
He says things that attract people to Houston also sometimes attract gang activity. Harris County Sheriff Adrian Garcia calls it the scourge in our community.
"They have expanded to robbing stores, robbing banks. One of my deputies was shot as he intervened and disrupted a bank robbery. So, these gangsters are public enemy number one threat to our society. And that's why we have to do everything possible to bring all these resources together, so that we can focus intensively on those creating the greatest damage in our society."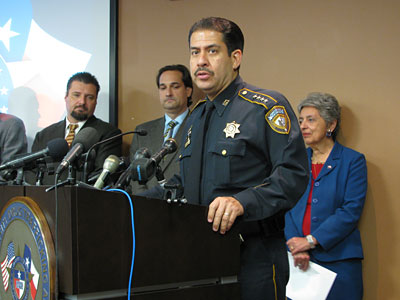 Harris County Sheriff Adrian Garcia
Garcia, a former Houston police officer, says the city's focus on gang activity has come a long way. The center will serve as the base for some of the region's most knowledgeable and experienced federal, state and local anti-gang investigators, analysts and prosecutors.
"Back when I was the director of the city's anti-gang office, we were taking the gang enforcement units off of gangs, and putting them into the call for service loop. What we're creating today is what I did for the Houston Police Department, but now we're doing it on a regional level. So the need to have an infrastructure, and the need to always look for improvement on how you share information is a daily mandate that we have to continue to achieve."
Garcia says there's no reason why gangs should have any influence or impact on the community, and it's the job of the center to dismantle and disrupt them.