Nine years ago, Gail Rauhut was teaching her last semester of high school English when she learned she had breast cancer. Looking back, she recalls how her students thought their teacher was going to die.
"And I wanted them to know that it was not going to happen in their semester and probably not in their lifetime if I had anything to do with it. And so I turned this negative in my life into a teaching moment."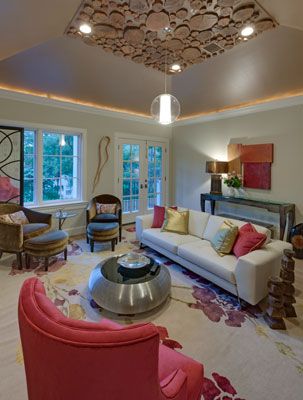 photo credit: Jud Haggard Photography
Almost a decade later Rauhut is cancer free and is one of the many women who give their time to the Pink Ribbon House campaign. The campaign involves building a large dream house and inviting the best local designers to decorate the rooms.
Tours are given and donations are taken with all the money going to the Lester and Sue Smith Breast Center at Baylor College of Medicine.
"It's a very unique way to of raising money. Everyone can write a check. But it's also a great way to showcase the talents of a builder and designers in the Houston area, an opportunity for people to see a beautiful product, and raise money for breast cancer research and awareness at Baylor College of Medicine."
This year's chairman is Debby Leighton. She's also a cancer survivor.
"I feel like I'm one of the lucky ones. I told my friends that I had cancer light. I found it myself and I had a lumpectomy in August of 2009 and I had radiation therapy until November 23rd of 2009, and I've been doing great ever since."
Normally the Pink Ribbon home is built and then put up for sale. Although this year's home was constructed from scratch, it already belongs to a family that is letting the foundation use it to raise money.
Members say they could do what most foundations do — throw a big gala. But they think going to a beautiful home and seeing the latest in designs is much more interesting.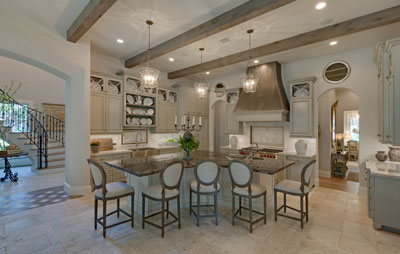 photo credit: Jud Haggard Photography
This is Chairman Leighton:
"There are so many entities out there that raise money for breast cancer and what's special about this one is its local. It stays right here in Houston and it supports the best medical school we think in the United States."
Pink Ribbon homes have raised more than $2.5 million over the years.