"He's eleven months and 22 pounds … "
Deputy Gerard Argao is reinstalling two car seats in a Ford Suburban.
"We're gonna make some corrections as we progress with this inspection."
A few yards away one of his partners is double checking two more seats installed by Jamie Yaws who's expecting twins in a matter of weeks.
"After we installed it it looked like it was too much of an incline, so we knew that we did something wrong. We needed someone to double check us and so apparently we did so I'm glad I came.
"We wanna reach back there, pull it snug and then tug. As opposed to grabbing this and trying to pull. No super mom or super dad going, 'ugh I can pull, no.' Just make sure they're in nice and snug, and then we're going to slide this up level with the armpits."
Deputy Argao says it's OK for parents to install car seats themselves — if they do it right. But that's the problem. He says there's one common mistake he sees quite often when doing inspections.
"Basically the seat itself is moving side to side heavily and there's so much gap. It's not tight. It's not secure. It doesn't stay on the seat it just goes side-to-side."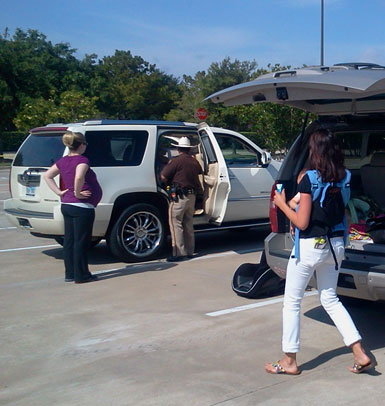 Tighter is better, he says.
"I like to call it comfortably tight, where you can't see any slacks on the harness system."
The National Highway Traffic Safety Administration recommends children stay in rear facing seats until 2 years of age. The seat should be selected based on your child's age, height and weight.
And although you'll find all sorts of different seats for sale, experts say they all basically work the same. This is Debbie Marley with Texas Children's Hospital:
"The thing to remember about car seats, not one is safer than the other. They all have to meet safety standards to be placed in your car and to be sold."
Deputy Argao says 90 percent of child seats are used incorrectly. But if you give him 20 minutes or so, he can correct the problem, show you how to do it the right way, and send you on your way.
"You are good that way."
" OK perfect, you're done buddy."
***Deputies with the HCSO can inspect your child car safety seat to make sure it is properly installed in your vehicle by appointment only. To schedule your child safety seat inspection, visit the storefront nearest you.