The East End is known as the birthplace of Houston as the Allen Brothers looked to the area now known as Harrisburg. It was the seat of government for the Republic of Texas in 1836.
Located between the eastern edge of downtown to the Port of Houston and south to Hobby Airport, The Greater East End Management District decided it was time to retell the story. This is District President Diane Schenke: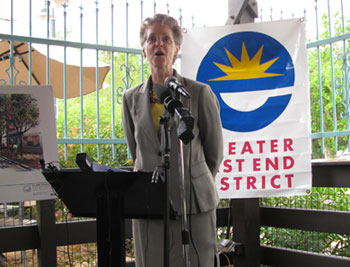 "The community has been talking about this since 2008, with the first livable centers plan, and the management district received a $5 million stimulus grant in 2010. And then of course, the light rail came along, and then the management district board put in another 2 and a quarter million for the pedestrian improvements along Harrisburg."
Construction will soon begin that will help transform the area with pedestrian friendly intersections along Harrisburg, with sidewalks that will be shaded and walkable.
"What we heard from the community is they wanted this to be a very family oriented you know, return this to a type of area where people would come and stroll and attract more retail. Reconnect this area to the bayou and I think we will accomplish all of those goals with what we're planning on doing."
Metro president George Greanias says the East Line rail project will connect the East End to downtown.
"This is strictly my perception of it, but I believe that we're gonna be surprised. I believe that actually this line will be used more than than was originally anticipated. I think the development that it is spurring the access to downtown. That it's gonna provide the livability of the neighborhoods. It's gonna connect to downtown [and] is gonna make it a very well used line."
The rail line should be in operation in 2014. Frances Castaneda Dyess with the Houston East End Chamber of Commerce grew up in the area. She's excited about the slow but steady growth.
"It is gonna take time for people to find the right place to open up the new restaurants, to open up the new businesses along Metro. We're very fortunate to be in a neighborhood that has residential, but also commercial all in one, and then we can live happily together."
The East End Street Festival takes place May 5th, Cinco de Mayo. You can see what the area will soon look like by going to www.GreaterEastEnd.com.