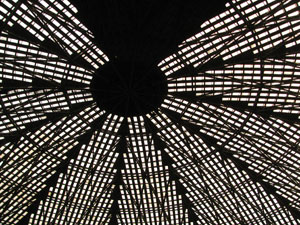 The last time so many members of the media came to the Astrodome was 12 years ago. This tour of the 47 year old structure was conducted by Reliant Park and the Harris County Sports and Convention Corporation, which operates the public facilities at Reliant Park.
The tour was warm, dark, dusty and damp, and the only lights were provided by an occasional fluorescent fixture, or the sunlight shining through the ceiling windows.
Edgar Colon, chairman of the Sports and Convention Corporation, has fond memories of the Dome.
"I came here with my father from Puerto Rico and the second memory that I have, in the 70s when I came here as a freshman to the University of Houston, one of the first trips was to watch the Cougars play football. This is where they used to play football in the 70s."
Getting rid of the facility would be costly, but the structure is sound for the next transformation. Colon says issues must be addressed before that happens.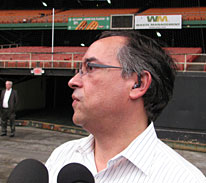 Edgar Colon, chairman of the Sports and Convention Corporation
"I personally divide this thing basically into two questions. Number one, do we want to save this building, yes or no? If we decide that yes, we want to save the building, then the next question is at what cost? And those are the things that we're considering."
Converting a sports venue like the Astrodome into a multi-purpose venue facility is not something that happens too often.
"We are in the final stages of a report that we engage the consultants back in October or November of last year, so we should be coming up with a final draft within the next 6 weeks to 8 weeks."
Any decision on preserving the "Eighth Wonder of the World" will be up to Harris County taxpayers in a bond referendum.