The entire student body turned out as educators and dignitaries broke ground for a major improvement project that will totally change Worthing's campus. In about 18 months from now, Worthing students will see a new two-story classroom addition. A new library and science labs will replace outdated facilities from the 1960's. Worthing principal Tod Nix says there will also be a learning center, and that's for all the kids in the neighborhood.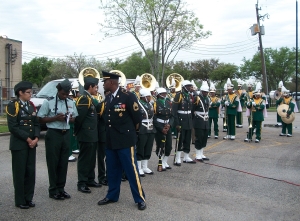 "You know, when people want to move into the Houston area, parents are looking for a great school and what you see is very important."
Alumni at the groundbreaking ceremony talked about how Worthing was influential in their lives and careers, but despite its magnet programs in science and technology, the school in recent years has earned an academically unacceptable rating. Nix was brought in this year to help turn around those low rankings. He says they need to make changes that go further than campus improvements.
"With that new look we've got to change what's going on the classroom. We've got to change the way we approach today's teenagers."
Money for the improvements comes from an $805 million bond issue Houston voters approved in 2007.