Seventh grader Collin Roach stands in a holding pen holding a large calf called a Braunvieh. He's about to enter a competition few of his friends know anything about. It's something he's being doing for almost three years now.
"I love doing it. It gives me something to do after school."
He's even won a number of competitions and taken home some cool prizes:
"Ribbons, sometimes money, trophies, belt buckles."
But since the roach family lives in Arlington, Collin says all his friends are city boys and aren't exactly impressed with his success in livestock competitions.
"They make fun of it. And they don't think boots are cool and all that stuff."
So what do his friends like?
"Skateboarding, BMX bikes."
Molly Mirassou is a few years older than Collin. At eighteen she's a veteran, who's learned a lot from her years of competition. I asked her what she and others get out of it. Is it the prizes, the trophies?
"Well the kids learn a lot from it. It's amazing the character it builds and the life lessons they learn that'll affect them years down the road."
She says the lessons come from the day to day interactions with the animals on the ranch or farm.
"It's something about the responsibility of taking care of an animal for a long term deal. It's just unlimited the lessons that you lean from these calves."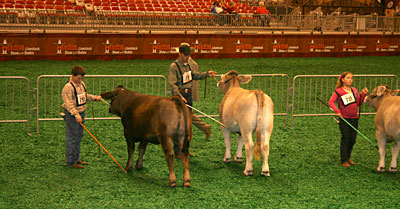 "Head up … stand up straight there young man."
While Mirrasou took home a first and second in her class Collin Roach didn't do so well.
"I got second to last."
But it was his attitude in the wake of the defeat, which showed Collin had learned one of those life lessons Mirrasou was talking about. I asked him how he felt about coming in next to last.
"Uh, it happens."
Collin says he'll pack up, go home. And get ready for the next one.