In the first home burglary on December 20, Houston Police say a suspect knocked on the door of a home in the 7300 block of Gracia in northwest Houston. He stated to the homeowner that he was with the utility company, and needed to meet him and his wife in their backyard to show him where the electrical power lines were going to be rerouted and buried.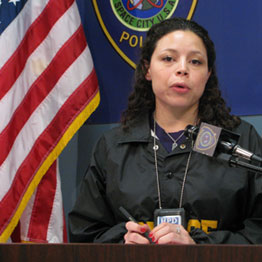 HPD Robbery & Theft Division Officer Edith Maldonado picks it up from there.
"And then, they asked them to wait for a second, while they go to the front and get some tools or makers to flag the area. And once that happens, they're still in the backyard. Somebody else is inside, taking their property. And by the time they realize it, they're gone."
The man and woman, in their late 80s went inside their home and discovered several items, including jewely, had been stolen. The man was so upset that he suffered a fatal heart attack.
Maldonado says a similar incident happened at the end of January in the 5300 block of Hialeah also in northwest Houston.
"And neither of the instances are they wearing any type of uniform. They're just wearing plaid shirts, t-shirts. They're just dressed normal."
Police believe the same man is behind both burglaries and have released the above composite.
Crime Stoppers is offering a $5,000 in the case.
Anyone with information on the identity of the suspect in the composite sketch is urged to contact the HPD Burglary and Theft Division at 713-308-0900.