It was a day to celebrate fort the archdiocese of Galveston-Houston.
Pope Benedict XVI named Monsignor George Sheltz as the new auxiliary bishop. He has been steadily taking on more and more responsibiities with the archdiocese. An auxiliary bishop is the second in command, and will help Daniel Cardinal DiNardo oversee the state's largest diocese.
"It was a most humbling experience on my part to say yes, and that afternoon I wrote His Holiness Pope Benedict XVI, thanking him for choosing me."
He says he will oversee the administrative operations of the archdiocese, but will also represent Cardinal DiNardo, such as performing confirmations.
"This diocese has grown so rapidly. We have a million and a half Catholics, and there are times when the bishop needs to be in two places at one time. This gives an opportunity for us to be able to go out when those needs for a bishop are present ."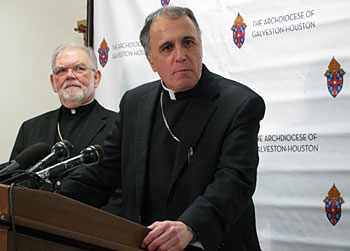 Cardinal DiNardo says Sheltz is ready for his new promotion.

"Bishop Sheltz will do what he has been doing in many ways. He carries with it though, the Office of Bishop, a successor of the Apostles, and I have complete trust and confidence in Bishop Sheltz."

He is a native Houstonian, attended St. Thomas High School and the University of St. Thomas. He's been a mentor to many clerics, including Fr. Christopher Plant from Resurrection Church.
"What he has helped me do is give me some focus. So first, there's that focus and that dependence on the power and grace of Jesus Christ, and then from there comes the practical wisdom, to be able to serve the people."
Bishop-Elect Sheltz will be ordained in April.