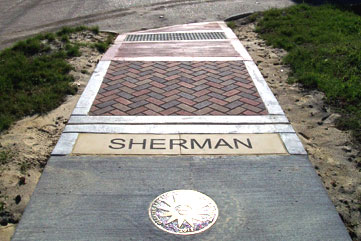 If you've ever been to the original Ninfa's on Navigation, you've been to Houston's East End.
It's a colorful, vibrant area with plenty of people out walking the narrow or sometimes non-existent sidewalks.
So when the new stadium and light rail line moved into the area, the Greater East End Management District saw an opportunity to beautify and improve public spaces.
Diane Schenke is president of the Management District. She says they're using part of a $5 million stimulus grant to put in trees, bus stops, public lighting, benches and other pedestrian-friendly amenities.
"A part of that federal grant requires that we spend three to five percent of the funding on public art. Five percent of $5 million is $250,000, which would buy us a sculpture in the esplanade on Navigation."
Schenke says they wanted to make a bigger splash with art than what was required. So instead of building a bus shelter with an art installation nearby, they're building the art right into the bus shelters. Same goes for benches, bike racks, signage and even trash bins.
Anthony Thompson Shumate is one of the artists selected to design utilitarian pieces for the area. He says he wants his work to reflect a mash-up of cultures in the East End — a sort of artist's rendering of Tex-Mex.
"The premise by which I'm making these works — it's the idea that this is a Latin community and that yet there's this kind of encroachment and mix, like all of the Houston area, of all these other cultures and what that means. And so being able to develop shelters or trash receptacles or benches that fall in line with that."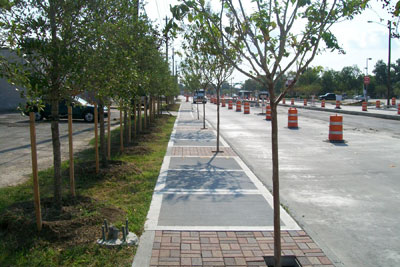 Shumate doesn't want to give too much away about his concepts just yet, but says he hopes his art will serve as landmarks for the East End — the kind of landmark you might mention when giving someone directions.
Schenke adds that these projects aren't simply aesthetic or cool. About 34 percent of people in the East End take transit, walk or bike to work. That's compared to three percent city-wide.
"The bus stops along York and Sampson consist of people sitting on the curb with their feet in the street. So, our residents are going to be delighted to have bus stops that are functional."
The public art amenities are part of an overall livable center plan for the East End, scheduled for completion early next year.