The new Galveston Island Historic Pleasure Pier is situated on Seawall Boulevard and will extend over 1100 feet out into the water.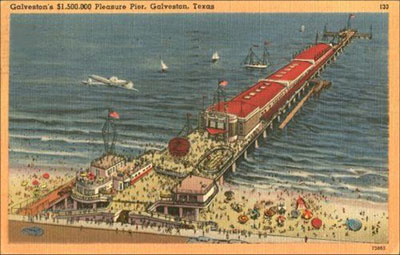 Originally built in the late 1940s, Galveston's Pleasure Pier was one of the largest of its kind in the country. Hurricane Carla changed the look of the old Pier in 1961. The historic Flagship Hotel was built four years later.
Restaurateur Tilman Fertitta bought the Flagship Hotel years before Hurricane Ike put it out of commission in 2008.
"When I bought the Pier about 10 years ago, I knew eventually I would do something. Do we go amusements? Do we redo the hotel? Do we build a new hotel?"
He says when the convention center was built on the island, along with it came hotels, and that eliminated the supply and demand.
"And then I started thinking, 'what do we really need in this area?' Then Astroworld closed and we see the demand in Kemah, so that's when I realized the best thing to do really is to take this and make this a spectacular pier, and be one of the best in the country, and I wouldn't do it unless it was going to be one of the best."
Fertitta's management style is strictly hands on. One person operates everything, like Kemah Boardwalk, which he also owns.
Joe Jaworski is the Mayor of Galveston.
"Its both the future and history. I mean, the future is exactly what Mr. Fertitta described, in terms of the economic impact from destination tourism, as well as employment. But you also look kind of, how just this is, like in 1900 when the horrible storm was replaced by the Galvez Hotel. Like Hurricane Carla in '61, which after, they built the Flagship. Now, this is going to be our testament to our resiliency after Ike."
I asked Jaworski if he could think of anyone but Fertitta to fast track the island economically.
"What we want to see is the concept that one does not replace the other. It simply just grows upon the city's success. Tilman is right up there at the top tier of developers. The Moody family has done the same at Moody Gardens and we're grateful with them, and the Mitchell family, who have redeveloped downtown — to have such big players all in one city."
Fertitta hopes to transform the Pleasure Pier into destinations like the Navy Pier in Chicago and Coney Island's Luna Park. It is set to open in May.