30-year-old Gelareh Bagherzadeh was shot to death late Sunday night, as she drove into the parking lot of her parent's townhome complex on Augusta Drive near the Galleria. Houston Police Homicide detective J.C. Padilla says the woman was shot through the passenger window of her father's Nissan Maxima.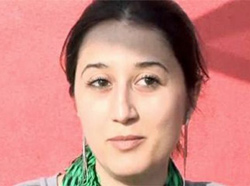 "The vehicle had rolled and crashed into a garage that is behind 894 Augusta. When the first responding officer arrived, he noticed that the front wheels were still turning, and he noticed that the engine was revved up pretty high as he was approaching the vehicle."
Padilla says Bagherzedeh, a graduate student at MD Anderson Cancer Center, was on the phone with her ex-boyfriend when he heard what may have been the crash and gunshots. He was questioned, but is not considered a suspect.
"During our investigation we located a surveillance camera at the townhome complex. We have reviewed the video footage, and it shows emergency vehicles arriving to the location, followed by a short time later, it would appear that the inviduals that are seen, may have gone outside to find out what was happening."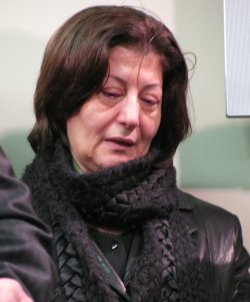 Her purse and cellphone were still inside the car. Padilla says they're not sure what the motive for the killing might be. Bagherzadeh was part of a local Iranian organization that supports the green movement against the current government. Her family sought comfort from each other during the meeting with reporters. Brother Ali Bagherzadeh says they're devastated.
"She pretty much raised me because when we were kids, my mom used to be a teacher and she used to always be out, and she would always watch out for me, and she was really loving and a sweetheart, and I can't think of anybody that can hurt her, because she's always been peaceful and just tried to bring peace to this community and society."
Katherine Cabaniss with Crime Stoppers says a $5,000 dollar reward has been posted in the case.
"We remind any citizen that has any information, that they will be anonymous if they call Crime Stoppers. Anyone who knows who did this, should call Crime Stoppers with a name. One name will solve this case. We know that there is someone out there who knows who did this, there always is."
The FBI is also investigating the case. More information on how you can help can be found at www.crime-stoppers.org, by texting a tip to TIP610 or to CRIMES (274637).