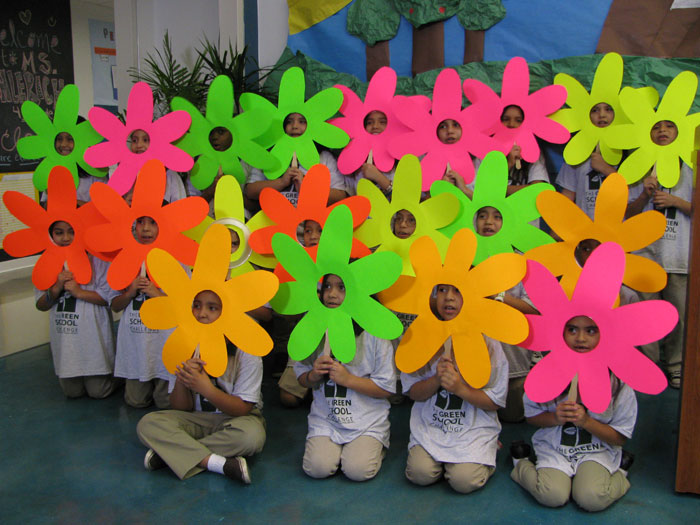 Students at James Berry Elementary in northeast Houston are dressed as flowers as they sing the praises of going green. They joined district Superintendent Dr Terry Grier as he kicked off The Green School Challenge, part of the district's effort to further cut energy and water consumption.
"Good teachers can teach underneath an oak tree, I know that. But I can promise you, quality facilities that are green, that are going to add to our environment and change the way we live, and change the way our kids are taught, is very very important."
Dr Gavin Dillingham, HISD's manager of energy and sustainability, says there are simple steps in school operation that will result in significant savings for the district.
"This low cost, no cost challenge that we're doing here is part of a much larger comprehensive program that the district's doing. We're retro-commissioning most of our…we're actually gonna be retro-commissioning all of our facilities over a two, three year period. We're doing an energy performance contracting project, which allows us to put more energy efficient equipment: lighting, h-back control systems within our schools. Not only reduce energy consumption in those schools, but also make the schools more comfortable to be educated in."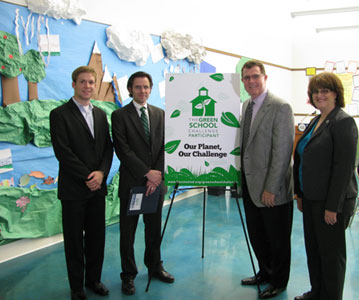 Rowan Canter of Rice University, Dr Gavin Dillingham, HISD Mgr of Energy and Sustainability, Dr Terry Grier, HISD Superintendant and Deborah Silber, Principal, Berry Elementary
Rowan Canter is a senior at Rice University. He helped design the initiative at Berry Elementary, a so called "environmental magnet school" by submitting plans to Dr Dillingham that are LEED Certified, a process to enhance environmental awareness, but also provide a conducive learning environment at a reduced cost:
"Materials that were used in the construction of the school make the school much more sustainable from a construction standpoint, saying that there was less energy used in the creation of that material, or the creation of that material had less impact on the environment, in terms of emissions and pollution."
PH: "Are some of those materials recyclable materials?"

Canter: "Yeah, absolutely, or they were source from recycle materials as well. So in the LEED system, you get additional points for using recycled, post consumer material in the construction of your building."
Superintendent Grier says The Green School Challenge encourages every school to build its own "Green Team," made up of students, staff and administrators, and develop a program that is specific to the characteristics of each school.
"We have a lot of older schools here. There's not question in my mind that we're gonna need another bond referendum in the coming years. Because we have a lot of other old schools that need to be replaced, some need to be renovated and upgraded to make then become more energy efficient."
Since the start of 2011, HISD has saved close to a million dollars by rolling out a variety of energy saving initiatives.