This story is part of a reporting partnership that includes KUHF, NPR and Kaiser Health News.
MD Anderson Cancer Center in Houston has lured 55 scientists away from Boston's Dana-Farber Cancer Institute. The personnel grab will help the academic hospital jump quickly into the field of cancer drug development.
MD Anderson – part of the University of Texas — has pledged $75 million for the effort, called "The Institute for Applied Cancer Science." At Dana-Farber, the scientists worked at the very similarly named "Belfer Institute for Applied Cancer Science."
MD Anderson leaders, who prefer the more politic term "recruit" for the coup they've pulled off, are gaining 28 scientific researchers, who bring a retinue of 27 post-docs and PhD students.
For onco-observers, it wasn't a huge surprise: MD Anderson just installed a new president in September, luring him from – you guessed it – the Belfer Institute for Applied Cancer Science. In fact, hiring Dr. Ron DePinho indicated just how badly MD Anderson wanted to beef up its basic genetic research and translational capacities. So now a large part of the Belfer gang has joined DePinho, who also brought his wife, Dr. Lynda Chin, an expert in cancer genetics. Chin will be scientific director of the new Institute.
As if to underscore what could be cast as a victory over his presidential rival Mitt Romney, Governor Rick Perry took time out from his campaign to attend the official announcement in Houston. He said nothing overtly political, but emphasized that Texas was setting itself up to compete with traditional bio-tech hubs like, well, Boston.
Perry said: "We're creating a culture that will help ensure that great ideas that are born in Texas will stay in Texas. From the laboratory to the marketplace. And then we will export them around the world."
But beyond needling Bay Staters, what does MD Anderson accomplish by doing this? Well, for years, cancer docs have complained about a slowdown in the development of new oncology drugs.
"Pharmaceutical companies have downsized their internal research programs," DePinho said. "Biotechnology companies, which serve as the pipeline from academia to large pharma, are under significant stress due to the economic crisis."
Now MD Anderson will be doing more of what pharmaceutical and biotech companies used to do — conducting basic research to find new cancer drugs and then shepherding the drugs through the early stages of testing, DePinho said.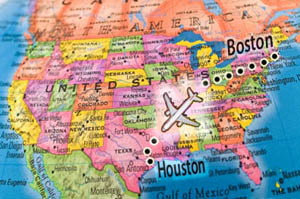 Alarms have been raised for years about the dwindling "pipeline" in pharmaceutical invention, but the problem seems particularly acute in oncology. DePinho says less than 10 percent of cancer drugs ever make it through clinical trials.
What's more, the new revolution in "cancer genomics" has thrown the field into an energizing disarray. There's a new understanding that cancer is not one disease, but hundreds of diseases – and that these cancers can be attacked at the genetic level. That means new types of drugs targeting specific mutations and proteins.
Chin says academia seems poised to work out the scientific complexities involved in developing these future cancer drugs. Freed from investor pressure, academics can work together across disciplines, combining biochemistry, genetic engineering, statistics and other disciplines. But make no mistake – the goal is to invent new drugs, patent them and pull in pharma-partners along the way, with the hope of sharing the eventual profits.
Dana-Farber did not respond to requests for comment on the scientific defection. But Chin says that more than half of the institute's scientists are still in Boston. Still, Houston got most of the leadership, so Belfer will have to rebuild.