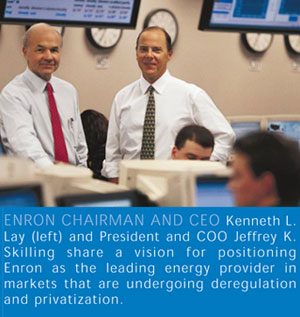 image from the Enron Annual Report, 1998
"Enron employees have been carting personal belongings from the company's downtown offices, having been told that 90% of the job cuts are affecting Houston…"
Houston was already in a recession in December 2001. Enron's bankruptcy made it that much worse, throwing 4000 Houstonians out of work. That was magnified by the implosion of Enron accountant Arthur Andersen. Enron's rivals, notably Dynegy and El Paso, never entirely recovered from the blow to the energy trading market.
Phyllis Anzalone was a pioneer of Enron's retail electricity business.
"The people who were the closest to retirement and the retirees are the ones that you really had to feel sorry for, because they were affected the most. They didn't have the time to get their earning power back, whereas many of us were much younger, and we could go and rebuild from there."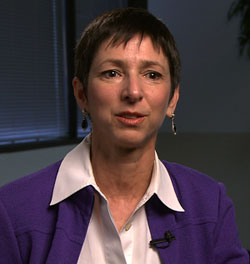 Phyllis Anzalone
For workers young enough to go back into the job market, having Enron on their résumés was no help. It took Max Eberts a year to find another full-time job.
"It seems like I was called in for interviews because people were curious more than anything. They all wanted to know what happened, what it was like, and there was even some questions if, you know, did I know, in my position, and the answer of course was 'No.'"
Many employees felt not only let down by Enron but ripped off. Richard Rathvon was one of those who fought back.
"At the demise of Enron, there — I had a large bonus payment that was outstanding, and then I came to find out that other people had been receiving what we called these midnight bonuses to the friends and family of Enron, some key executives and other people at Enron, and it struck me as not being fair."
Rathvon formed the Enron Employee Committee. Through lawsuits and out-of-court settlements, the group recovered about $35 million for laid off and retired Enroners.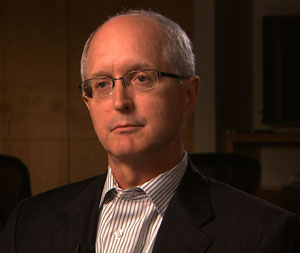 Richard Rathvon
With few immediate job prospects, many decided to form their own companies. Adil Jafry joined with several of his Enron colleagues to start a retail electricity provider.
"I believe that the value created by Enroners and former Enroners after they left Enron is a lot greater than what was embedded within that one company alone. So I believe that in the long run, the companies and the initiatives started by these people will have a far greater impact on the society at large compared to what Enron had as a company in and of itself."
Enron's encouragement of risk-taking and innovation proved invaluable training for future entrepreneurs. Many of these, such as Phyllis Anzalone, still look back on their time with the company as an overwhelmingly positive experience.
"My career at Enron was just the most exciting thing I've ever done in my career, and I would go back, I'd do it all over again, I'd be first in line, even if I had to lose the money that I did. It was a very exciting place to work. I'd do it again in a heartbeat."
Houston's economy has long since recovered from Enron's failure, says the Greater Houston Partnership's Patrick Jankowski. But the damage to the city's image lingers on.
"When I talk to people in Washington, or I talk to people in San Francisco, or I talk to people in Chicago, every now and then they go, 'Oh, yeah, what about Enron?' and I say 'What about Enron? That was ten years ago. Individually, yes, it's affected people and it's still affecting people. But as far as in the great cosmic scheme of things, Enron was a chapter and we're past that chapter. We've turned the page and we've moved on."