The mid-1980s saw one of the worst recessions in Houston's history. The collapse of oil prices cost the region nearly a quarter of a million jobs. Against this less-than-promising backdrop, two gas pipeline companies — Houston Natural Gas and Omaha-based Inter-North — merged, hoping to take advantage of imminent deregulation. The new company made Houston its headquarters, put HNG chief Kenneth Lay in charge and changed its name to Enron.
Cindy Olson was an accountant with Inter-North at the time of the merger.
"Even though it was a pipeline company and a pretty, you know, non-risky business model, it was chaos because of the different cultures that were coming together."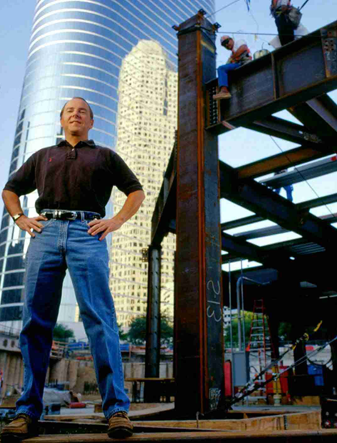 Former Enron CEO Jeff Skilling. Enron image.
That began to change with the hiring of Jeffrey Skilling in 1990. Skilling took the company into the gas trading business. He got Enron to adopt mark-to-market accounting, letting the company book profits from any deals immediately.
Above all, he encouraged innovation, as former public relations manager Max Eberts recalls.
"Ideas had a way of bubbling up to the top, and if you could get someone to embrace your ideas, next thing you know you'd be all of a sudden working on a project that you thought wasn't possible."
The company soon became a magnet for talented employees. Ravi Kathuria already had a successful career in the industry when he joined Enron's energy services division.
"We all in Houston wanted to work for Enron. That was the place to be if you were any good."
The willingness to run with new ideas, and the pursuit of rapid growth, led Enron to branch out into one sector after another — power generation, retail electricity, water.
"Enron made no bones about wanting to be not just the best energy company out there but the best company, period."
Stephen Webster worked on IT systems for Enron's international operations.
"So we were always in competition, within our own teams to get ahead and get to the next level, as well as with people from within the other departments. Everyone was kind of a classic A type, and that bred a lot of competition and a lot of pressure to do your best at all times to get to the top."
That competitive spirit took on an extreme with Enron's traders. Craig Rickard worked at Enron's forest products trading desk.
"We all thought we were pretty hot stuff. I think that in our group we tried to be humble, but there was certainly a bit of an air, you know, either at the gym or at nearby restaurants that we thought, you know, there was nothing stopping us."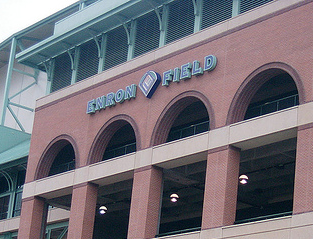 Before Minute Maid Park, there was Enron Field
Still, to all appearances, Enron was a model corporate citizen. It was a major benefactor for Houston charities. It helped build the Houston Holocaust Museum and expand the Houston Museum of Fine Arts. And Ken Lay led the effort to build the Astros a new ballpark and keep them from leaving the city. Again, Cindy Olson.
"Ken got involved in this because he saw that if Houston had a downtown stadium that was that vibrant that downtown would become vibrant, and that it would be a way that we could recruit people from other parts of the country to Houston."