Congressman Green and twenty-one other House Democrats are calling on President Obama to green light the Keystone XL Pipeline. In a letter to the White House, the group cited both economic and energy security benefits for the construction project.
I caught up with Green on a visit to his eastern Harris County district.
"I'm actually in Channelview right now, which would be the end of that pipeline, and it would provide a feedstock for our five refineries that are in our congressional district along the Houston Ship Channel. We're importing oil from a lot of different places in the world. Why would we not want to import it from our closest neighbor, and also an ally?"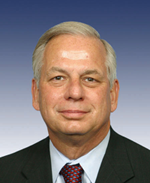 Image courtesy of U.S. Department of State
The State Department, which must sign off on all cross-border construction, aims to make its final ruling by the end of the year.
The project has been the subject of a three-year, interagency review process, led by the State Department.
It's been subject to opposition from environmental groups and leading House Democrats, including Energy & Commerce Committee ranking member Henry Waxman.
The White House is set to make a final decision on whether to issue a permit for Keystone XL by the end of the year.