It's estimated that you're 40 times more likely to be the victim of financial fraud than you are to have your car stolen or your house broken into. While scams on the internet are growing, many con artists still work "brick and mortar" real life scams:
"We see professional people getting duped, ordinary people getting duped. We see senior citizens getting duped. I mean, it comes with all ages and all races."
Sgt. Rick Calderon is with the Houston Police Department's Major Offender detail.
He says he and his five investigators keep busy working a handful of common swindles, from the door-to-door scams involving magazine sales or the fake utility employee, the "sweetheart swindle", the pigeon drop, to the Latin lotto — that's when an undocumented person convinces a victim that he has a winning lotto ticket. But since he's not a legal resident, he cannot cash the ticket unless he pays the taxes up front.
"Can you give me $3,000, 4,000, 5,000, so I can pay the taxes up front? And when you do help me pay all these taxes up front, then I'll pay you your money back, and I'll give you an additional $10,000. You'll be surprised how many people go for that."
James Munton: "I'm imagining the first time someone exchanged a pebble and called it currency, there was someone else trying to steal it from them."
James Munton is a magician and an expert on the art of deception. He says as a young boy, he remembers the close-up, slight of hand magic with three playing cards, or the three card monty.
"I noticed this con man win about 2 or 3 hundred dollars in five minutes from an American tourist who was playing the game, and as I saw that, I thought 'I'd like to learn how to do that.' So, before I saw a magic trick, I saw a scam happening on the street."
He enjoyed a successful career as a magician, but Munton never forgot the impression the con men with the cards left him.
"As I started researching what was going on, I realized that a lot of the tricks that these scam artists used, are basically the other side of the coin of deception that magicians use. The difference being of course that magicians we use are skills to entertain people and put a smile on people's face, whereas the scampers use tier skills to steal their money and information."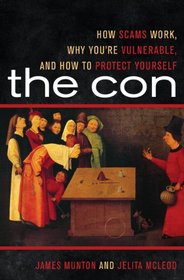 He says education on scams is important, and that less is more…less information you leave about yourself, makes you more secure:

"You Americans are very very friendly. You just have to look at cars as you're driving around town. On the back of these mini vans, you have those little stick figures with the mom, dad and the two kids, and they have their names underneath. Next to that is a bumper sticker that says your son's in the Army, and that your daughter plays band in Houston Senior High. You can learn so much about someone just from the back of their van."
Munton now travels the country speaking on the subject of identity theft and data breaches. He's written a book called The CON: How Scams Work, Why You're Vulnerable, and How to Protect Yourself. You can find more information by
logging on to www.scamfu.com.