It's one of Houston's jewels, but what we know today at Memorial Park could look a lot different in a couple
of years.
"You're going to look at a natural site that will appear to have been devastated. The canopy loss here in Memorial Park will approach 50-percent. Some people think as much as 80-percent so to say that it will look differently is a profound understatement."
Barry Ward is a fan of trees. He's the executive director of Trees for Houston, a non-profit dedicated to planting and protecting trees. He's got his hands full these days.
"Places like Memorial Park are what make large cities like Houston livable. Imagine New York without Central Park and trees. Imagine Houston without Memorial Park and we're doing everything we can to prevent that from happening."
Trees for Houston has done more protecting than planting lately. It spends most of its money watering and adding organic chemical compounds to trees to help them survive the drought.
"There's a very interesting analog between people and trees in that when we have pathogens zoom through the population or stresses, it's the very young and the very old that tend to be the hardest hit. Trees and people are very much the same in that sense. So right now, what we're seeing is that are youngest trees and our oldest
trees are under the direst threat and the ones in the middle are doing a little bit better so that's what we're basing our triage on what we treat on."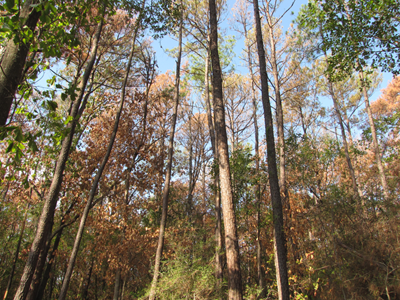 Ward estimates around 10-percent of Houston's 660 million or so trees are dead or dying. He says not only will the park look worse, but a thinned-out tree canopy leads to other things.
"If you think of trees as structural items, they are very large, durable structural items and if you have several of those between you and a noise source or you and a light source and you and the sun, it protects you from all of those things equally. When they are gone, all of a sudden it's noisier, it's brighter, it's hotter. The ability for people to escape, if you will, in Memorial Park will be greatly diminished because of this loss of tree."
There is some good news here: Ward says many trees are doing just fine despite the lack of water and most of the city's trees will make it.