"Shattered Dreams" is a powerful DWI awareness program that involves Houston Fire, Police and EMS in conjunction with the Spring Branch ISD and Texas Alcoholic Beverage Commission. The simulated auto accident sent one student through the windshield of one vehicle and one was thrown out of the other. Other passengers inside the vehicles involved were covered in simulated blood.

Houston Fire Captain Ken Loudermilk lead the response to the accident. He says respondents went through their regular procedure after reaching the accident scene.
"This is how most of our young people are injured or killed nowadays with car accidents. It's a very dangerous thing out there today."
Adding to the realism, victims of the accident were placed on stretchers and one was put in a body bag. As part of the program, families were notified and the surviving driver was arrested and booked for driving under the influence.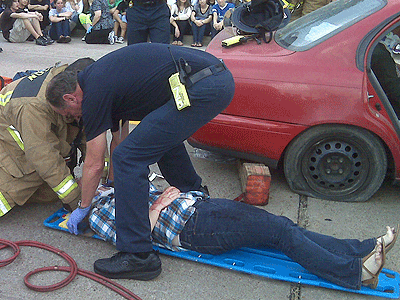 Contains graphic imagery
One adult responsible for serving alcohol to the teens arrived at the scene and was arrested.
Sheila Henderson coordinates trauma outreach and injury prevention for the Harris County Hospital District.
"We're losing kids all the time to drinking and driving, and one of the number one ways that they're getting the alcohol a lot of times is from parents. So this is one of the ways to get them to understand. It may be a simulation, but it could happen to anybody."
Although the program is nothing new, the realistic nature of the simulation still affected many of the students.
Student: "Yeah, I see a lot of these people's faces and it's just like, distress and sadness brought to them, and it's not even like real, but it's really stressing."
Student: "One of my friends was in the wreck, and I have no idea how to react to this. I'm speechless."
Student: "It shows that you are controlling the machine that can kill somebody, that you need to be smart with your decisions and how you drive."
Christopher Juntti is principal at Stratford High School. He says the simulation is staged before their homecoming festivities.
"Our timeline is to do it approximately two weeks before homecoming, before a big dance, where our students have some possibilities of making some bad choices. The way this is done, there's an entire video that's shot, and will be shown to the students Thursday, before the homecoming dance on Saturday."
PH : "Do you think something like this will leave a lasting impression to the students?"
Juntti : "I would hope so. I think our kids are real visual. We can tell them all we want until we're blue in the face, but when we show them and they really see all that's involved in a drunk driving accident like this, I think that really makes an impression on them. And when they see it, then they live it, they feel it."
According to the National Highway Traffic Safety Administration, alcohol is the cause of 60% of all teen deaths involving car accidents.