The television news report aired last week and uncovered possible misuse of money set aside for charity in Precinct 6, as well as the use county equipment and deputies.
Supporters of the embattled constable showed up in his defense. This is prominent businesswoman and activist Yolanda Black Navarro.
"I'm offended and disappointed that Ch. 13 would choose to portray the East End as being run by a patrón, a single person as reflected in the title of this investigative report: 'Lord of the East End.' To insinuate, to insinuate that a segment of the city of Houston is controlled by a king pin is unfair. It is unfair to us in the East End. It is unfair to anyone in the city of Houston."
The reports focused on a charity operating out of Trevino's office, where money collected is unaccounted for. State Senator Mario Gallegos says he's giving the constable the benefit of the doubt.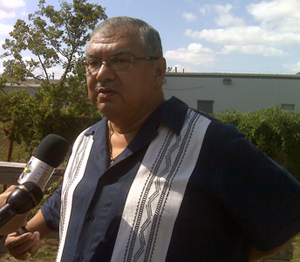 State Senator Mario Gallegos
"I think there was some poor bookkeeping and that's it. That's why we have the IRS. There was a little poor bookkeeping and we'll see what comes out in it."
The constable was not available for comment, but the reports have led to a criminal investigation being headed by the Harris County DA's office.