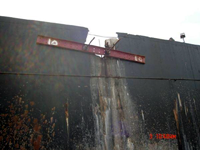 A bioreactor unit at U.S. Oil Recovery in Pasadena. Image from the Harris County Attorney's Office.
The proposal begins a 60 day public comment period on whether to add the defunct oil processor and wastewater treatment facility to the National Priorities List of Superfund sites.
Superfund is the federal program that investigates and cleans up the most complex, uncontrolled or abandoned hazardous waste sites in the country.
Brenda Cook is NPL coordinator for EPA's Region 6.
"Several times we have had waste from the site being flooded into Vince Bayou, and EPA is proposing this site to the NPL to ensure that the site is going to be cleaned up and there will be no further contamination of the bayou from the contaminants left on site."
U.S. Oil Recovery closed last month, under the terms of a settlement with Harris County ending a three-year lawsuit against the company. The settlement required CEO Klaus Genssler to pay $3 million in penalties and attorney's fees. It also barred Genssler for life from the hazardous waste disposal and processing business in Texas.