APJ Abdul Kalam served as the 11th president of India. By the time his term ended 4 years ago, he had become known as the "People's President." Before he entered politics, the aeronautical engineer worked extensively with the Indian Space Research Organization. He now helps inspire future scientists as chancellor of the Indian Institute of Space Science and Technology.
Dr Kalam spoke to a student gathering at the UH Hilton sponsored by various Indian Student Organizations. He talked about a movement he started a few months ago called "What Can I Give." It focuses on teaching people to better the future by giving to others and society.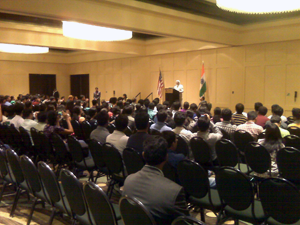 Audience at UH Hilton hearing former Indian President APJ Abdul Kalam
His talks often lead audiences to repeat his wisdom like: "When there is righteousness in the heart, there is beauty in the character."
"When there is beauty in the character, there is harmony in the home."
(Audience repeats)
"When there is harmony in the home, there is peace in the world."
Kalam told the students that education will give them wings to fly to become anything they want to be, but that challenges must be overcome: from corruption and moral terpitude, to environmental degredation and the need to build a compassionate society.
After his speech, students told me that he left an impression.
Student 1: "I got inspired from Dr. Kalam to give back to the society, and whatever I could do from my side, a little bit, I'll definitely try to do it."
Student 2: "At least 15-minutes, I'll dedicate to find what is my self, what is the uniqueness in me?"
Student 3: "I myself am an aerospace engineer, and my ex-president was also an aerospace engineer. It was the time that I'll always remember in my life."
Granted, the majority of the audience was of Indian decent, but Shreya Aggarwal, president of the Indian Student Organization, says Dr Kalam's message is universal.
"Any type of ethnic belief can honor his beliefs and ideals. It doesn't have to be an Indian-only person you know, who believes that. So I know that if he's able to go anywhere just because of his name, he'll make a difference. But also when people meet him as a person, they'll be like 'Wow, he's such a humble human being.' All he wants is just to give out smiles and give out care, and show that you can be a unique you. So, I think its amazing."
Dr. Kalam came on the invitation of University president Dr Renu Khator.