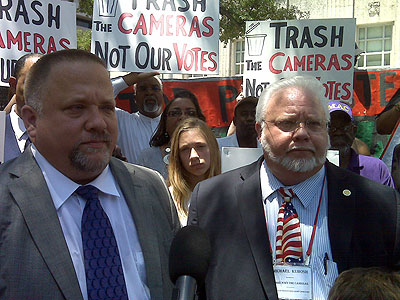 Red light camera opponents Paul and Michael Kubosh in front of City Hall on August 3rd, 2011.
The special meeting was over in less than an hour with almost no discussion on the part of councilmembers.
Five members of the public, including Paul and Michael Kubosh, addressed the council, asking for the red light cameras to be turned off immediately.
Randall Kallinen is an attorney who has worked with the Kuboshes to fight the cameras.
"I would urge you to repeal the ordinance. As far as tagging goes, I was here six years ago, we have constantly debated the red light camera for six years. What is it that needs tagging at this juncture? You have a question? Somebody has a question after six years?"
Just moments later, Councilmember Sue Lovell, with the support of Mayor Parker, tagged the item in an expected maneuver to keep the cameras alive through the weekend.
"There is a financial responsibility that goes along with our actions, not just simply turning off cameras. Since we do not know what we will be responsible for, we've been given a number from ATS but we don't know, I'm going to tag this item until we can come to — you can present to us what our financial responsibilities will be when we vote to terminate this contract and this ordinance. So I'm tagging."
Councilmembers Clarence Bradford and Jolanda Jones attempted to override the tag and bring the issue to a head, but didn't have enough votes to carry it.
Parker says the delay gives the city some leverage as they head into mediation with American Traffic Solutions.
"It leaves the big stick out there while we're going through mediation this weekend."
Back on the other side of the he-said she-said fence, ATS Attorney Andy Taylor calls it a political flip flop.
"This mayor cannot make up her mind and it's because she's not acting on principle, she's acting on politics of the moment."
There's a lot at stake for both sides in this legal and political battle. ATS claims the city will have to pay $25 million if they
break the contract.
The amount likely won't be nearly that high, but ATS will get some sort of settlement, which will have to be squeezed out of the city's already strapped budget.