First things first, and starting the school day off right begins with breakfast. Ronda Elsenbrook is a dietitian with Kelsey-Seybold. She says many studies find a strong relationship between eating breakfast and learning ability.
"It is how you fuel that engine to get you going all through the rest of the day. Their brains are growing and they're getting new information at school, and the best way to help them take in that new information and apply it, is to have them properly fueled."
Eating healthy at lunch will help keep your child's mind sharp and ready to learn all afternoon.

"I recommend three different food groups with every meal, so that you're getting either a fruit or a vegetable, you're gonna need some form of protein to keep you full and satisfied longer, and then usually the starchy foods are things that we all love, foods like your breads, rice, cereals and pasta."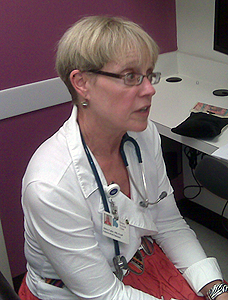 Kelsey-Seybold pediatrician Dr. Debra Cutler
Kelsey-Seybold pediatrician Dr. Debra Cutler says she's been just as busy getting ready for the first day of school.
"It's the same pressure as being a parent. 'We've gotta get these vaccines done, we've gotta get this checkup done'. We're getting calls all the time. 'Could you just work him in for a physical' or, 'I didn't realize we needed these shots, because the things have changed.' So, it's a very hectic time."
She says parents should help younger kids change the summer routine they've gotten used to, and set up a realistic bedtime to allow them to get the recommended 10 to 12 hours of sleep.
"And I secretly think that most kids are really ready to get back to school, because they get bored and they miss their friends. So I think in general, if you can put a positive spin on it, you'll be less bored."