Activity was bustling in the auditorium at Fondren Middle School in southwest Houston, where students came with their parents to sign up.
Cindy Elliott is a program specialist in the HISD, but she was one of many volunteers helping to ease the process.
"We are here to serve in whatever capacity that they need. We have been organizing students. We've been passing out forms. We've been telling people how to register. We've been standing here just in case somebody needs help and they look lost. We've just been helping them in any way that they want us to. So that is what we are doing to help support the schools."
Fondren Middle School is one of the schools where the district has invested 20-million dollars across the HISD, in a 3-year school turnaround program that provides extensive tutoring and $1000 more per student. Its goal is to raise test scores.
Last year, the TAKS math passing rate among 6th graders improved on average 22-percent in Apollo 20 schools, compared to just 2-percent improvement on average across the HISD.
The investment made to to these schools, brought out district Superintendent Dr. Terry Grier.
"First year, particularly in tutoring in grades 6 and 9, exceeded our wildest expectations. The results that we got narrowed the achievement gap by 50-percent — phenomenal in one year's time."
Grier says tutoring proved to be an invaluable tool for the students.
"Here in this school for example, rather than tutoring all the 6th graders this year, they're gonna also tutor some 7th graders and some 8th graders. So, there's no question that we've learned that tutoring — when done right, when you have one teacher per two students, or one tutor per two students — pays huge dividends."
Principal Charles Foust led Dr. Grier around his campus, which has undergone an extensive face-lift.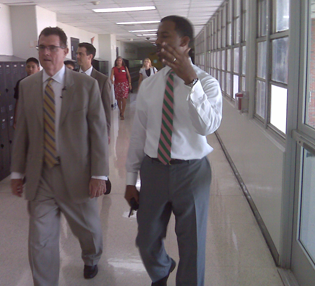 Fondren MS Principal Charles Foust leads HISD Superintendent Dr. Terry Grier around his school campus
"And that's the first step of having an inviting culture. And so last year test scores were great. This year, our goal is one hundred, but we are taking it in increments. And so, we're looking for a 90 percent across the board in all subject areas math, science, reading and social studies."
PH: "Principal Foust, you're not concerned with what Fondren used to be?"
Foust: "Exactly. If we continued on what they used to do or what they didn't do, then we wouldn't be able to go anywhere. So we are forward thinkers and making sure that we set goals for the kids and hold them to it."
11 elementary schools are being added to the Apollo 20 program this year.