"I'm here to fulfill a campaign promise and to roll out what I think will be an ordinance that will help Houston grow into the future."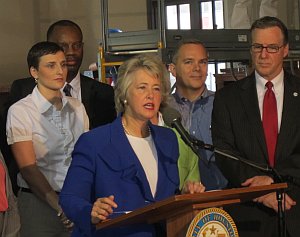 Mayor Annise Parker speaking at the Central Library's Julia Ideson Building
Mayor Parker used a stepladder and scaffolding-filled room at the Central Library's Julia Ideson Building to unveil her Hire Houston First program. The initiative aims to encourage local hiring by driving city business to companies with major operations in Houston and the eight surrounding counties.
The program would let the city declare a local firm the winner of any contract under $100,000 if the local vendor's bid is no more than 5% above that of an out-of-town company's low bid. For contracts over $100,000, that margin would be narrowed to 3%.
The move follows the Texas legislature's passage of a bill letting cities set "buy local" requirements for city purchases of goods. Parker's version expands on this to include the purchase of services as well, including construction. She said that made the backdrop of the Julia Ideson Building all the more appropriate.
"All but one of the more than 50 contracting companies working on this $32 million renovation project are Houston companies, and the one company from outside of Houston had particular expertise in the restoration painting of historic buildings. That's the way the system should work. Our tax dollars stay locally and circulate through the economy, but we're also reaching out when appropriate to the companies that can provide the expertise that we need."
The Mayor plans to submit her proposal to City Council for approval August 10.