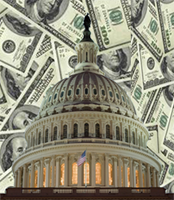 There's still time for the White House and Republicans to reach a deal to raise the ceiling on the federal debt. But the game of fiscal chicken is starting to wear on Houston businesses. Mike Valant is with ISM-Houston, Inc.
"With the current political uncertainty, they're still reluctant to commit to capital spending and hiring to increase their capacity. I'm seeing that everywhere and hearing that everywhere."
An ISM survey of Houston purchasing managers reveals that both employment and sales were up slightly in June compared to May. But it also shows that production and purchases were down.
"Sales, production, employment, [and] purchases are usually flowing up or flowing down together, because they're interlocked."
Valant says the fact that these indicators are moving in different directions shows just how nervous businesses are in the current climate.