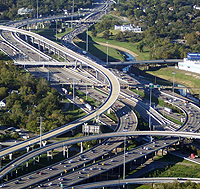 The event marked the first of four stops on the National League of Cities tour, which is being sponsored by Siemens.
Daniel Duncan, the Houston-based general manager of Siemens Energy's oil and gas division, says the need for better infrastructure is already affecting how and where businesses choose to operate.
"Siemens made the decision to open new plants recently in the U.S.: Hutchinson, Kansas; Fort Madison, Iowa; and Charlotte, North Carolina. And we do this in spite of an infrastructure, not necessarily because of it. In fact, in Charlotte and Fort Madison, we had to build our own rail spurs to carry our wind turbines to market. In Hutchison, we had to work with the state to get a new on-ramp built. These are the kinds of decisions and investments that many companies simply won't be in a position to make."
The company is in the process of relocating some of its global leadership from Europe to Houston. Duncan says Siemens is concerned that congestion along the I-610 and Highway 290 corridors will make it difficult to attract and retain top talent.
The NLC next takes its message to Los Angeles, followed in the fall by Charlotte, North Carolina and Chicago.