Clear Lake City has grown with NASA and the Johnson Space Center. The Shuttle program began in 1981 with the launch of STS-1.
Here at Space Center Houston, a 75-million dollar 'edu-tainment' complex that opened nine years later, things are as busy as ever with visitors from here and abroad. Manager Jonathan Boothe says he's heard a lot of speculation from patrons on life after the shuttle program.
"The comments are they're really sad that the space shuttle program is coming to an end, we all are. They really want to know why we're going with Russia, but that's something that NASA works with and we really don't have a comment on that. A lot of people think that the space program is waning, but I don't think so. I think it's actually building up more. This is just another step in a long line of steps for NASA."
Lauren Bedrich works in the education department at Space Center Houston. She says she's been fielding more passionate questions.
"They're upset like, you know a lot of these people have kind of grown up on the shuttle program. It's been around for 30 years. A lot of people, they're almost devastated really you know, that something so familiar to them. It's a little bit of a shock."
PH: "Lauren, I detect that your response to these people is sort of like a soothing effect to them."
Bedrich: "Absolutely, that's normally the biggest question that I get is: Where are the shuttles? Why don't you have one? What's gonna happen afterwords? People seem to think that the shuttle program is all NASA has. And we have so much other stuff going on for us and we've got, it's opening doors for more programs to be developed, and it's kind of giving us an opportunity to explore bigger and better things."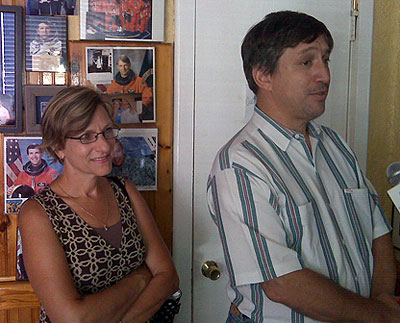 Tom and Patricia Silva
Down the road from Space Center Houston is Frenchie's Italian Restaurant, a fixture for NASA workers and patrons like Tom and Patricia Silva. She says she finds it hard to believe that after the final launch, the shuttle program is history.
"I hope the government will get their act together, and find out that they need to put their money where it belongs, and that's in the exploration program. There are too many brilliant minds that can be utilized for good, and we need to get the dollars moving over here."
Tom Silva agrees with his wife, and expects commercial enterprise to kick into high gear.
"It's sad to see it go. I hope we develop something else, whether it's NASA or commercial space enterprise. That would be exciting, to have commercial enterprise, commercial space industry booming to the point where they can carry people."
After 30 years and 135-flights of the shuttle, a space ship that takes off like a rocket but lands like a plane, residents of Clear Lake will miss the icon that became a symbol of American technological superiority.