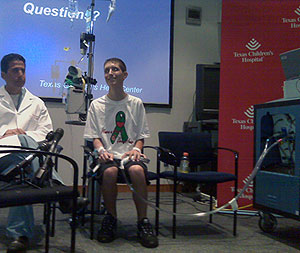 "Big Blue" looks like a small filing cabinet on wheels and clicks along, attached to Merecka's chest and an artificial heart inside. Implanted in May, the SynCardia Total Artificial Heart was the last option.
"None of the other devices would have worked for me. That was the only way out."
Merecka was born with his heart on the wrong side of his chest and the heart vessels backwards. Doctors at Texas Children's completely removed his defective heart and replaced it with "Big Blue". The hospital says Merecka is one of only three
adolescent's with congenital heart issues to receive an artificial heart.
"My heart was so enlarged that it was putting a lot of pressure on my chest and lungs and now it's a normal-sized heart."
Merecka was 17, still considered an adolescent, when he got the artificial heart. Typically, artificial hearts aren't options for young people with potentially fatal heart issues. Dr. David Morales is the pediatric cardiovascular surgeon at Texas Children's who performed Merecka's surgery. His says this changes the game when it comes to implanting artificial hearts in adolescents.
"This was a big step forward for us, demonstrating that in pediatric hospitals, we can really take care of all children, because as we all know, children are best taken care of in pediatric hospitals."
Merecka has to be connected to the SynCardia machine at all times. It's not very mobile and is not a permanent solution. It's considered a bridge to an eventual donor-heart transplantation. But it is keeping him alive and has improved his overall health.
"The advantage of the total artificial heart is it really gives you almost perfect heart function immediately. You can see that his organs recovered within two days, his organs that had been failing for weeks, his liver, his kidneys, those all recovered."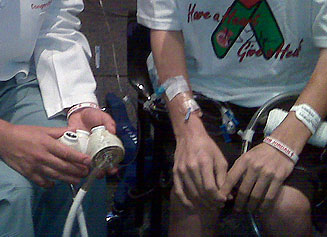 Now, Merecka rests, with Big Blue alongside.
"Waiting for the perfect heart"