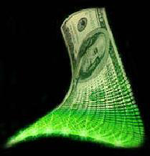 Federal law requires internet retailers to collect sales taxes for any state in which they have a physical presence. States have long struggled getting such companies to comply. The Texas bill aimed to force the issue by expanding the definition of what constitutes a physical presence.
Ronnie Volkening is president of the Texas Retailers Association, which supported the bill.
"We just think it's a matter of equity that those Main Street, bricks-and-mortar retailers, who've been present in Texas and serving their local communities, have to by law collect, remit, and deliver to the comptroller sales tax revenues, and certain companies who claim to not have that presence in Texas do not. That presents them with an unfair advantage."
Governor Perry vetoed the bill, saying it would have unintended consequences. Amazon.com and other major online retailers have threatened to pull out of Texas if the bill became law.
A rematch over online sales tax collection may be only days away. The Senate omnibus spending bill, up for a vote in the special session, contains a provision with almost identical language to the bill Perry struck down.