When what seemed like millions of Gulf Coast residents evacuated their homes during Rita, it created a 30-mile traffic jam from downtown Houston along I-45 North. Harris County Judge Ed Emmett was not in office at the time, but remembers hearing stories about some people dying because of the delay.
"People do have that in the back of their memories right now about Rita, where they came to a halt. They thought they were gonna move. And I talked to somebody the other day who, they said they left south part of Harris County and they got to Greenspoint nine hours later. People don't want to be in that situation."
TranStar soon huddled with the City of Houston, TxDot and the Texas Transportation Institute to investigate solutions to capture travel and traffic speed data on freeways and arterials.
David Fink is TxDOT's manager of transportation operations. He says they discovered that Bluetooth-enabled devices could be used to determine accurate travel times.
"It gives you good information and it's low cost, and that's the key to it. It's a low cost solution that can be deployed state-wide, if need be."

The system can typically be deployed at less than 10-percent of the cost of traditional toll-tag based travel monitoring systems. Mike Vickch is webmaster for Transtar, which helped develop the Bluetooth-based Anonymous Wireless Address Matching system, also known as AWAM.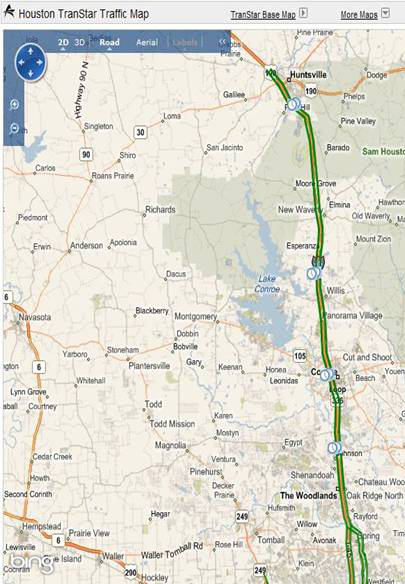 Bluetooth deployment to Huntsville on IH-45
"During the Rita experience, a lot of us were blind, we didn't know what was going out there. But this technology just enables traffic management personnel and the general public to know what's happening on the roadways during an evacuation or everyday."
Information is accessible 24-hours a day, seven days a week to provide current travel times. Vickch says sensors collect anonymous data, including camera snapshots that are encrypted before it is sent to TranStar for processing.
"We just ensure that that software is running, especially before an emergency. We do some checks to make sure that we're ready. The advantage that we have is that we've been through so many times with prior big events like floods and icing, that we have a pretty good idea of what to expect."
The system developed by TranStar was recently awarded "Most Innovative Use of Technology" by the Center for Digital Government. It's recognition that Harris County Judge Ed Emmett calls well-deserved.
"It's not like we suddenly organized a posse to get ready for hurricane season. I mean, that's what these people do. I think TranStar is the model. I think it's a national model even, for local cooperation and how you need to organize."
Hurricane season begins on Wednesday and runs through November.
KUHF contributes to transportationnation.org, a public radio reporting project. "Transportation Nation combines the work of public radio newsrooms and their listeners as the way we build, rebuild, and get around the nation changes."