According to research conducted by the Fatality Analysis Reporting System and National Automotive Sampling, at least 16-percent of all fatal vehicular crashes involving motorists under the age of 20 involve drivers who were distracted at
the time of the accident.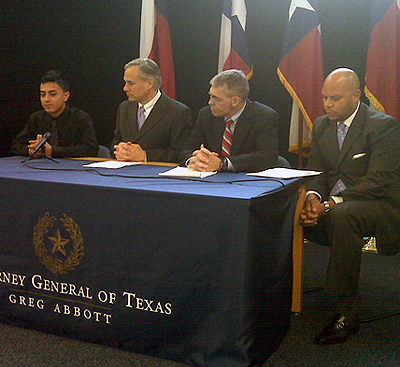 Keanu Rivas, student at Cesar Chavez High School; AG Greg Abbott, DPS Director Steve McCraw, and Kerrick Henny, AT&T
Texas AG Greg Abbott says while it has become an increasingly essential daily function, he calls texting an obsession for teenagers, something that seems to occupy instantaneous attention.
"This can be a real challenge if they're doing that while driving. Something where they feel like life is gonna end if I don't respond immediately to a friend, really can turn into a life and death situation while they're driving."
He says texting while driving compromises even the most experienced drivers' ability to focus on the road.
"Last year alone, there were more than three thousand accidents, because of people who were using cell phones while driving. This is an area where there has to be a warning that goes out across the state of Texas, to warn teens that texting while driving can be a disaster."
Steve McCraw is director of the Texas Department of Public Safety. He admits teenagers might not listen to adults when it comes to the dangers of being distracted while behind the wheel.
"And it gets a little personal when you have people that work for you that have been in accidents, work accidents, and often three seconds is the difference between life and death and three inches are, because three seconds can get you three inches over that center stripe, and that head-on collision."

To show teenagers the dangers of texting while driving, the AG's office and DPS conducted texting while driving tests at four Texas high schools, including Cesar Chavez High in SE Houston. The test had students drive a vehicle through an obstacle course while attempting to compose, read or send text messages on a cellular phone. Student Keanu Rivas took the test,
and was surprised at how poorly he did.
"Texting and driving is a very, very irresponsible thing to do. You can cause injury to people you don't know, people you might know, kill people, hurt yourself, and be responsible for all the charges of anything you can be charged with, just because of a simple text that you wanted to reply to, or even pay attention to the road that you're driving on."
AG Abbott and DPS Director McCraw encouraged all young Texas drivers to protect themselves and their friends by avoiding texting while driving.