Last December, Harris County Commissioner El Franco Lee proposed expanding the standard practice of two days' credit for each day served, in favor of a 3-for-1 schedule for inmates for working in county parks and cleaning up bayous.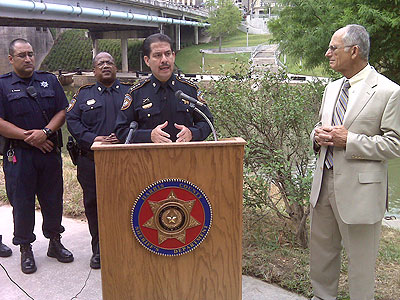 Mike Garver with the Buffalo Bayou Partnership listens as Harris County Sheriff Adrian Garcia explains the new earned early release credit program to low-risk inmates who clean bayous and waterways
Sheriff Garcia considered the proposal and made the announcement on the banks of Buffalo Bayou.
"We are working harder to get some sweat equity out of the inmates in our custody. I have to medicate them; I have to clothe them; I have to house them; I have to feed them. So it's only right that while they're in my custody, that they're giving back to the community that is supporting their lot in life while they're in my custody."
Garcia says it not only benefits inmates who qualify, but it also saves money for his department.
"If they comply and complete all of the aspects of their participation in this effort, they could qualify for an extra day's credit for time served in the county jail, that will get them out of our custody. Thus far, we have already released early about a thousand low-level offenders, and that netted us over a million dollars in savings for the taxpayers."
In about a month's time, inmates have collected some 300-bags of trash from the bayou. Mike Garver with the Buffalo Bayou Partnership says the program expands their resources dramatically.
"Buffalo Bayou Partnership is just like everybody else. I mean we're short funds. We've got way more projects than we have money, and so this is a tremendous stretch of our budget. And not only that, the sheriff's department supervises them. So, it's a tremendous deal for us and it really helps the partnership."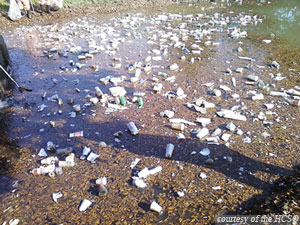 Before trash cleanup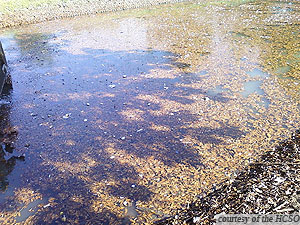 After cleanup
The program has also helped inmates like Devon, who couldn't wait to sign up.
"I've been here for about two months now."
PH: "Hard work?"
Devon: "Oh, very hard work. I love to work though. I love working hard. I love the program. I love being out here. I enjoy being outside. It's better than being in the tank."
The earned early release program not only saves costly room in the jail system for the most dangerous criminals, it now helps beautify green space along the waterways.