Right now, if your car breaks down on the freeway within Houston City limits, a Safe Clear driver will tow you to a safe location within one mile for free.
If you run out of gas they'll drop you at the nearest gas station or if you have a flat tire they'll change it.
Houston Mayor Annise Parker says the program, which is a joint operation between the city and METRO, costs $3.5 million a year.
"Safe Clear can no longer be free to the public. It is now a flat rate $50 tow. And a flat rate $30 fee for roadside service such as a tire change."
Parker says the $50 fee is cheaper than a standard tow truck fee. And the city will provide a $100,000 fund for people
who are low-income elderly or who fall below the federal poverty line.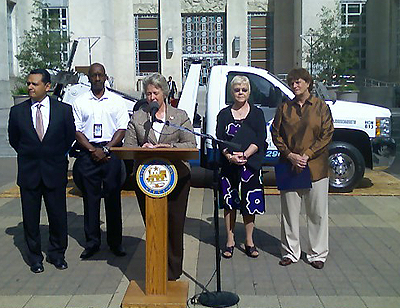 From left to right: Council Member Ed Gonzalez, Sergeant Michael Provost, Houston Police Department, Auto Dealers Detail Division, Mayor Annise Parker, Jeannette Rash, Chair, SafeClear Management Group and Council Member Sue Lovell
Safe Clear provides about 74,000 tows every year.
Councilmember Sue Lovell chairs the city's transportation committee and helped design the new rules.
"You can get reimbursement for this from your insurance if you have a towing package in your insurance or your auto club. And also in the legislature right now, it's going through if you have liability insurance that also it will cover the cost of your tow. So we felt like we could implement this at $50, keep a good program and save the city money."
Lovell says if someone isn't able to pay the fee, their vehicle will be stored at an impound facility for 48 hours for free to give them time to make the payment.
The changes must be approved by city council. They'll vote on the new rules next week.