The units are called SPACE, which stands for Solar Power Adaptive Container for Everyone. Mayor Annise Parker says they'll be able to generate much needed power in the event of an emergency, such as a hurricane that wipes out the city's electricity grid. The units will be able to charge critical medical devices and store medicines. She says they would have been helpful in the aftermath of Hurricane Ike.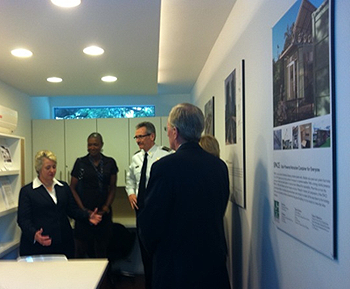 Mayor Parker inside space unit
"Think of all the people who just wanted a place to plug in their cell phone for a moment to make a call. We can drop these all across the city and that excess generating capacity is there."

Architects from the University of Houston's College of Architecture used recycled shipping containers from the Port of Houston to build the solar-powered units. The containers aren't huge, just 8 feet wide and 20 feet long, but they pack a lot of power. Joe Meppelink is the director of applied research at the College of Architecture. He says each container will have 18 adjustable solar panels which generate 3500 watts of electricity.
"To put that in perspective a light bulb is about 50 watts, a hair dryer is about 900 watts."

Meppelink says the number of devices the SPACE units can power depends on how much electricity they need.

"It depends very much on the appliances. Obviously if you plug in space heaters, that's a 2000 watt appliance, that's going to run the battery down. But this thing could charge literally hundreds of computers and cell phones. We hooked an electric vehicle to it and didn't have any problem with that."

Each container can also function as a self-sustaining office space. Inside they're equipped with energy efficient air conditioning systems, cabinets and work spaces. Mayor Parker says that means the units can also be used during non-emergency times. A couple of them are going to the Houston Parks Department. Mayor Parker says the fact that they're powered by the sun makes it easy to provide air-conditioned shelter for park employees without having to run power lines underground.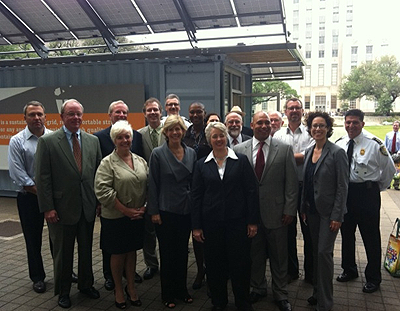 city officials and UH faculty standing in front of SPACE unit
"We can also use them at special events. Drop them in for the Fourth of July for example where we need a headquarters location."
The city is using federal grant money to buy the SPACE containers, which cost around $60,000 dollars each. They'll be deployed to schools, fire stations, neighborhood centers, and parks by the time hurricane season arrives.