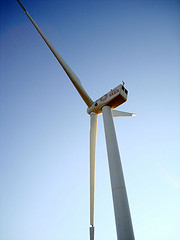 In its annual market report, the
American Wind Energy Association
says that Texas reached 10,085 megawatts at the end of last year.
"In fact, if Texas were a country, it would be number six in the world in terms of installed megawatts of wind projects."
Rob Gramlich is the association's senior vice president for public policy. Gramlich credits the Texas Public Utility Commission's focus on building out transmission lines for the state's leading position.
By contrast, he cites the lack of predictable federal policies for a nationwide, 50% drop in wind power installations between 2009 and 2010.
"Investors trying to put up a new manufacturing facility to employ four or five hundred people, they need to know what the market might be more than just a year or two in the future. They're looking at five or ten years."

China passed the U.S. to become the world's leading wind power market in 2010, just two years after the U.S. took the top spot from Germany.