"It's definitely not the best decision but sometimes it vibrates in your pocket and you have to get a hold of somebody."

Emil Helfer is a graduate student at the
University of Houston
. He's a month away from finishing his degree in Environmental Engineering. Helfer says he typically uses Bluetooth when he talks on his cell phone while driving. But when it comes to text messages, well, most people don't use hands-free technology for that. He says the majority of his friends use their phones behind the wheel.

"Because you're on your phone all the time when you're walking around, when you're in class, which you probably shouldn't be. So you use your phone so much that it's just part of you. Your car is part of you and so is your phone, so it's like, go for it."
Students like Helfer are the target of TxDOT's campaign. Officials are hoping the event will stop them from using mobile devices or adjusting the stereo while driving. Deidrea Samuels is a spokesperson with TxDOT. She says that in Texas, nearly one in four crashes involves a distracted driver.
"We want them to be aware that when they get behind the wheel we want them to just drive. They're doing a lot of other things. They're texting, they're eating, and we just want to let them know the consequences of texting and driving."

According to the National Highway Traffic Safety Administration, in the U.S. almost five and a half thousand people died in distracted driving-related crashes in 2009. That's up six percent from 2005.
Deputy Arturo Marines is with the Harris County Sherriff's Office. He hopes the driving simulator, which is essentially a fancy video arcade game, will show students just how easy it is to veer off the road while they attempt to send a text message.
"You know, driving all together is a multi-task operation so you need 100 percent of your attention on the road. Obviously there are plenty of distractions already on the road. A cell phone is another."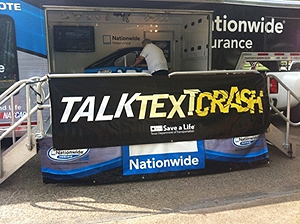 Emil Helfer in the distracted driving driving simulator
Back with Helfer, I talk with him while he's behind the wheel of the driving simulator. He's in the process of sending a text.
Wendy: "So is this how you normally would do it? You're kind of looking up and down."

Emil: "Yeah, up and down. Or, sometimes in my car, I can keep it out here."

Wendy: "Out in front of you?"
Emil: "Yeah."
Helfer isn't doing too well staying in his lane on the race track.
"It definitely is very distracting, looking down and up."
Though, in his defense, he is driving on a computerized race car track at 90-plus miles an hour. Not the speed he says he usually travels. Still, he gets the point. Well, kind of.

"I'll try not to text while I'm driving-driving too much. But if I'm at a stop-light or something that's when I'll usually send a text."