You can't lay in the sand or sip on a margarita by the pool at Hermann Park, but that hasn't stopped record numbers of people from paying a visit during spring break. Hermann Parks' Assistant Parks and Recreation Director Rick Dewees says it's a popular spot because there's so much to do.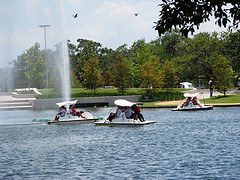 "We have the Museum of Natural Science, Miller Outdoor Theater, the Garden Center, the Japanese Garden, the heart of the park with its lakes and reflection pool, the golf course, rec center. There's quite a bit to do here."

The biggest draw in Hermann Park is the zoo. Crowds have averaged around twenty-thousand this week and on Thursday almost twenty-five thousand people went to Hermann Park. Dewees believes another reason for the record crowds this week is the weather.
"I think it rained Monday and didn't have very good traffic here. But Tuesday, Wednesday, Thursday and today, it's perfect weather and people want to be here."

It's been so crowded they've had a little trouble with traffic.

"It's really difficult getting cars in and out of the park. And we recommend for people to park along the rail line and take the metro into the park."

Dewees says taking the light rail would simply save a lot people a lot of headaches.
Images are from Flickr.