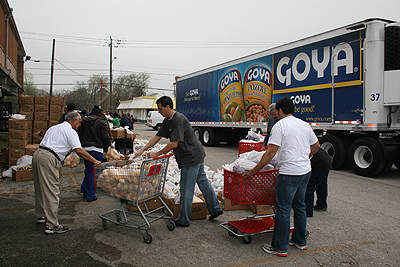 Outside trucks were unloading food by the box load.
Inside workers prepared to pass out bags of food to needy Houstonians — almost a hundred thousand pounds worth. Evelio Fernandez is Vice President of Goya, the company that donated the food.

"We're a Hispanic food company. But you have here rice, beans, pastas, seasoning, cooking oils, flour — the basic ingredients to prepare a meal. We're donating a million pounds of food throughout the United States today. I think its eleven, or twelve, different cities right now, happening at the same time, celebrating our 75th anniversary."

This event took place at Target Hunger just north of Downtown. Anna Babin is Director of theHouston United Way, which helped put on the food giveaway.

"It's about improving lives, it's about tackling key community issues its about making a lasting difference and improving the quality of life that we all hope to enjoy."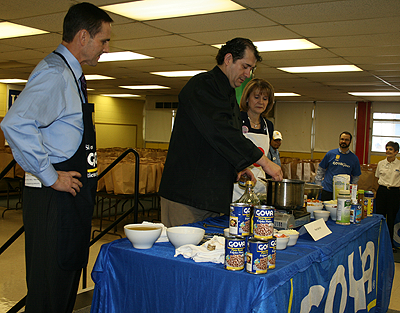 Lorene Davis is one of the hundreds who waited in line to get a bag of food. She's a regular at the food pantry and says the bags she takes home may not be a lot, but every little bit helps.
"Well they give you meats, beans, juice and maybe sometimes chicken. Everything is nice."

Clara Cooper is the director of Target Hunger.
"We provide food to families within Houston's inner city neighborhoods, predominately Fifth Ward, Cashmere Garden and Denver Harbor, and then we have some pantries also in the North Forest ISD area. So the people we serve typically are at or below the poverty guidelines. Those are the ones we call our regular clients. They are trying to make ends meet and unfortunately, they are not coming together so we provide that basic need of food."

Cooper says many of her clients receive food stamps but those don't provide enough to eat for the entire month. Target hunger's goal is to help fill in the gaps so that no one goes hungry.