(Theme from Star Trek – revised)

That's the original Captain Kirk, William Shatner, putting a new twist on the old
Star Trek
theme.
That surprise recording became the wake-up call for Discovery crew members on their last day at the International Space Station.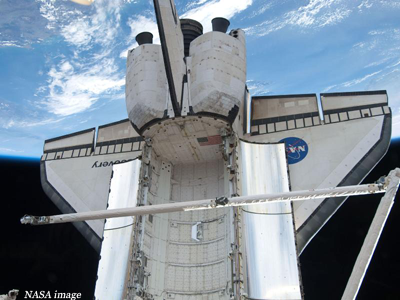 Backdropped by Earth's horizon and the blackness of space, Discovery and its remote manipulator system/orbiter boom sensor system is photographed by an STS-133 crew member while docked at the International Space Station.
NASA officials say they're proud of what the crew accomplished during the 8-day visit.
"I think if I had to step back and characterize this entire mission I would really call it an above and beyond mission."
That's Kenneth Todd, a NASA station manager.
"The systems performed very, very well — well to the point that we were able to add a couple extra days, which we just don't do that often. We don't do dock missions and add a couple extra days."
The crew delivered and attached a storage module to the station and performed some repairs during two spacewalks.
And they dropped off Robonaut, a human-shaped robot that will be unpacked later for experiments.
NASA flight director Bryan Lunney says that over the years Discovery played a key role in hauling up large chunks of the space station and putting it together in orbit.
"But the International Space Station today, you know nine hundred thousand plus pounds. It's simply big, there's a lot of hardware up there and the shuttle brought a big chunk of it up there."
Lunney says he'll miss Discovery but thinks her impact lives on at the space station.
Other Discovery Articles:
"Arguably you could say the space station is the shuttle legacy because of all the things we brought up there to assemble that space station. And the station is going to continue the good science it's doing today and hopefully for another 20 years, however long we can keep it flying, we should. Because we've spent a lot of time getting all that stuff up there, using the tool that is known as the space shuttle."
Discovery will eventually be installed at a museum somewhere — which one has yet to be determined.
In the meantime, the weather looks good for a shuttle landing on Wednesday in Florida.
From the KUFH Health Science and Technology Desk, I'm Carrie Feibel.