Homicide Captain David Gott says he is now linked by DNA to a total of five killings.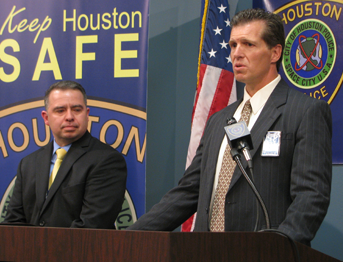 Homicide Captain David Gott speaking and Police Sergeant Eli Cisneros to the left

"All five, all five were found strangled, and all five were linked to Lucky Ward."
Police Sergeant Eli Cisneros has been able to question Ward, who is homeless. He describes his demeanor as "cool" and "matter-of-fact," with a sense of superiority.
"He is a very temperamental individual. (He) operates, you know, what I can describe to be a — for lack of a better term — would be a hair trigger. And if he perceives you as a threat, or you threaten those feelings of superiority that he has, he will go off on you in a second."
Police say by definition, Ward is considered a serial killer, since three or more deaths are linked in a similar fashion. Ward has been charged with two of the five murders. Police are looking at a five-year window before the first of these killings, in case there are others.