The sting was part of a multiple-agency effort including the Houston Police Department, the DEA, FBI and ICE. It started a few days ago and nearly 200 suspects have been arrested around the country.
As part of the sting, HPD narcotics officers were serving a warrant this morning in the Greenspoint area. HPD Spokesman Kese Smith says the officers got no response when they knocked and announced themselves, so they forced entry.
"One male suspect looked out at the officers and began firing. Multiple officers, fearing for their safety, returned fire striking the suspect. During the shooting, one of the HPD officers, Nash Patel, was struck."
Officer Patel was shot twice, once in the arm and once in the rear hip.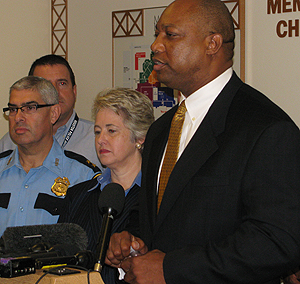 Houston Mayor Annise Parker and HPD Chief Charles McClelland were among the first to visit him in the hospital.
"He just kept saying to the chief 'I'm ready to go back to work.' It's going to be awhile before he goes back to work, but he will be fine and we're very, very grateful and we'd urge everybody to keep him in their thoughts and prayers."
Patel has been on the force since 1997 and joined the narcotics division in 2006.
The raids were in response to the murder of federal Agent Jaime Zapata, who was killed by members of a Mexican drug cartel earlier this month.
DEA Special Agent Thomas Hinojosa tried to downplay the connection.
"I mean law enforcement is always targeting the drug sales that are operating across the region and across the state. And as the chief and I were talking earlier, this is a daily occurrence — crime and drugs going hand in hand. So we're going to consistently be targeting them regardless of what happened prior to today's incident."
The suspect accused of shooting Officer Patel was also shot and is in the hospital. A second suspect in the house surrendered. The Harris County District Attorney's Office, HPD Internal Affairs and HPD Homicide division will investigate the incident as is standard with any officer-involved shooting.