The Greater Houston Coalition for Justice, a group that includes many civil rights organizations, announced it has filed a request with the DOJ to launch a full investigation. The group says there have been "patterns and practices"
of civil rights violations by the Houston Police Department against minorities. They want the Justice Dept to investigate allegations of cover ups by the HPD, excessive force by officers, misconduct by HPD supervisors & managers, racial profiling, and department policies that discriminate against internal investigations. Attorney Randall Kallinen says the city and Harris County are far too secretive.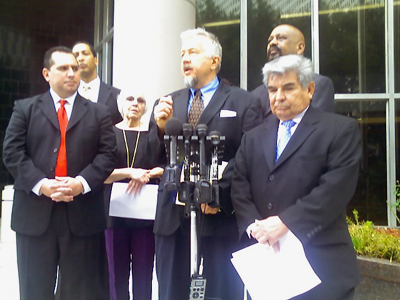 Attorney Randall Kallinen, along with Johnny Mata and members of the Greater Houston Coalition for Justice
"Police incident reports are secret. Alleged beatings of individuals in jails are secret. Furthermore, internal affairs reports are secret. The mayor tried to keep this video of the Chad Holley incident secret. So we have asked Eric Holder and the United States government so come and please help us."
Kallinen says the city and county have not made one single policy change to prevent excessive force. Johnny Mata with the group says its time for action.
"We want the community to know that the future of justice and excessive force and deadly force, and HPD and City of Houston will be in their hands, because they're gonna be the deciders of the future of the criminal justice system."
The group is calling for the creation of a citizen review committee to investigate police misconduct, but Police Chief Charles McClellan says it will not not do anything different from what is already in place.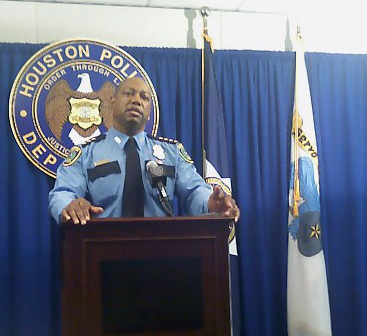 "I disagree with that particular concept on two fronts: that we can't police ourselves and there is a citizen review committee needed with some type of subpoena power. First of all, I respect the opinion of citizens, individuals, activists that are out there in the community. I certainly haven't had my head stuck in the sand and I'm listening to what they're saying and their complaints."
McClellan say transparency has been his priority since he became police chief.
"And I don't want to give anyone a free pass to assault a police officer. I don't want to give a police officer a free pass to overreact. We need to make sure we keep this in perspective."
Chief McClellan says the officers involved in the beating of teenager Chad Holley have tainted the reputation of the force of 5300 officers who try their best to keep the city safe.