According to federal statistics, Harris County has the most drunken driving deaths among the nation's 10 biggest counties.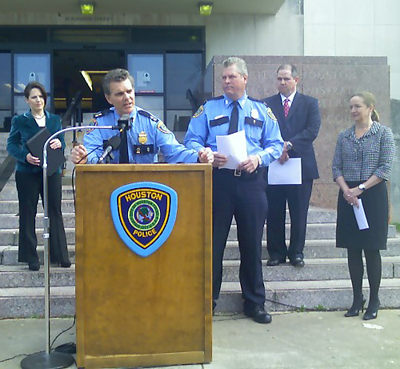 Houston Police Assistant Chief Brian Lumpkin at the podium. From left to right: Katherine Evans, Harris County DA's Office; John McNamee, MADD ; Katherine Cabaniss, Crime Stoppers
"We get so tired of cleaning up after the crash."
Houston Police Assistant Chief Brian Lumpkin talks about a collaborative effort with the HPD, the Harris County DA's office, Crime Stoppers and Mothers Against Drunk Driving for a six month citywide initiative to crackdown on drunk drivers.
"We're gonna deploy twice as many officers out there looking for DWI suspects, and we're gonna do that by deploying these four BAT vans throughout our city. And we're gonna send a couple on the southside, a couple on the northside every week — Thursday Friday and Saturday — and we're gonna get out there, and we're gonna find some of these drunks before they get into crashes."
Chief Lumpkin calls the the breath alcohol testing, or BAT vans, a one-stop shop.
"It's gonna be very convenient for our regular police officer, because it's gonna be right in his beat, that he can just drop off the drunk and we can process him. We can do the video. We can do the intoxilyzer. We can do it all right there. If they refuse to blow, then we're gonna have to take him down to see the folks here at central intake, they'll be drawing the blood."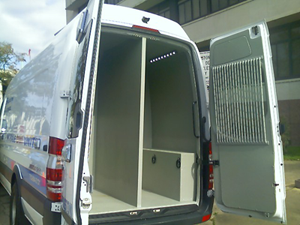 Katherine Evans with the Harris County DA's Office says the effort is made possible by a three year grant from TxDot, to expand their No Refusal program.
"More than 50-percent of the blood search warrants that are obtained through the No Refusal program are obtained by HPD officers, who have made these DWI arrests. HPD has dedicated space to the No Refusal program, to give a permanent facility for having those blood draws done in a sanitary place. HPD is truly the leader in the county of DWI enforcement."
John McNamee with MADD says this program will show results quickly.
"High visibility law enforcement, statistically does show that it does save lives by deterring drunks, and it makes a real difference. The people are less likely to drink and drive when they know the police are in their neighborhood and in their area."
Last year, over 13-thousand people were charged with DWI in Harris County.