Gov. Perry told lawmakers that when the final gavel sounds at the end of the legislative session, they won't be judged on the speeches they made, but on the results of their decisions.
He then spoke for 45 minutes about the prosperity of Texas, saying the state of our state is strong.
"Now the mainstream media and big government interest groups are doing their best to convince us that we're facing a budget Armageddon. Texans don't believe it. And they shouldn't, because it's not true. Are we facing some tough choices? Of course we are. But we can overcome them by setting priorities, by cutting bureaucracy, by reducing spending and focusing on what really matters to Texas families."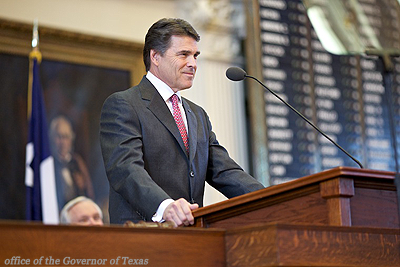 Texas Governor Rick Perry delivers the State of the State Address to both chambers of the Texas Legislature at the Texas State Capitol on Tuesday, February 8th, 2011
Perry told members of the Texas House and Senate that the Historical Commission and Commission on the Arts should be suspended until the economy improves.
While he didn't mention it in his speech, his budget also calls for a 50 percent cut to the Health and Human Services Commission and a 90 percent slash to the Public Utilities Commission, among other reductions.
"There should be no sacred cows in this business. And that reality is reflected in the budget that I submitted this morning. To eliminate duplication, let's consolidate functions like moving the Department of Rural Affairs into the Department of Agriculture."
Much of Perry's speech focused on comparing Texas to the rest of the nation, saying Texas added more jobs in 2010 than any other state.
"The core elements of our economy are strong and Texas is still the envy of the nation. We have a strong advantage over those states that care more about the expansion and extension of government than they do the freedom and prosperity of their citizens."
Perry reiterated his call for lawmakers to balance the budget without raising taxes or dipping into the Rainy Day Fund. The state's budget deficit may be as much as $27 billion.